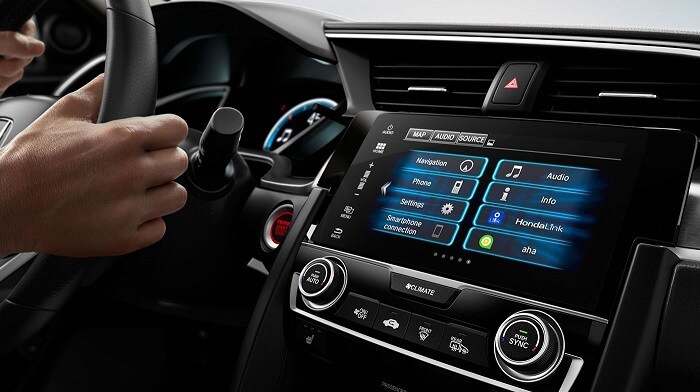 The HondaLink® app takes the driver-focused innovation of the Honda brand and puts it in your pocket, keeping you cool, calm, and collected, and helping you get more out of your new Honda vehicle.
Not sure what pressure to fill your tires up to? Can't remember exactly how to change one of those tires? Sick of trying to find the owner's manual? You're in luck—it's all at your fingertips thanks to HondaLink. You want to know what's even better? Parking reminders. Never waste time looking for your Honda vehicle again. Service appointment scheduling, warning light notifications, vehicle recall notices—it's all in one easy-to-access place. Staying on top of vehicle maintenance has never been simpler.
Out on the road, HondaLink provides peace of mind. In the event of a collision, a response agent will be notified and will check-in. The agent can call for help, even if passengers are unable to respond. Use the app to access 24-hour roadside service, including jump starts, lockout assistance, and more. Enhanced roadside assistance puts live, responsive help with towing and repair services one button push away.
Personal data wipe is a feature you hope never to need, but you'll be glad it's there if you do need it. This feature allows you to remotely reset your navigation system back to its default state and clears any stored information on it. Speaking of security, you'll receive an alert straight to HondaLink in the event your vehicle alarm is triggered. And the stolen vehicle locator feature makes use of sophisticated technology to help authorities find and retrieve your Honda vehicle should it ever get stolen.
Many of the pre-owned Honda models here at Hall Honda Virginia Beach near Chesapeake, VA feature HondaLink as well. Come in today to connect with the new or pre-owned Honda vehicle you've had your eye on.