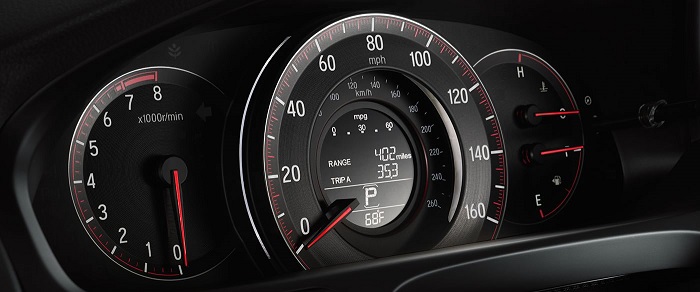 Whether you're driving a new 2018 Honda CR-V or the trusted Honda Accord you've had for years, you rely on your vehicle to get you where you're going safely. With active driver aids and warning lights to alert you, you can depend on these vehicles.
Driving around the Virginia Beach, VA area in your Honda means that you can enjoy peace of mind, however, occasionally, problems do arise. As your Honda Virginia Beach dealer, we want our drivers to feel confident when things don't go according to plan. So, we're providing a quick breakdown on your vehicle's dashboard warning lights.
Knowing what each dashboard light means is a tough task. Luckily, with a few tips, you can instantly identify what's a serious issue. The first thing you should know about your dashboard lights is what each color means.
Blue, white, or green lights are informational. These lights don't indicate a problem but tell you valuable information such as your high beams are turned on.
Yellow or orange lights are more serious. While not always the case, seeing a yellow light can spell danger. If you don't recognize the meaning of a light, look it up in your owner's manual. Yellow lights alert you to a variety of issues from coolant temperatures to brake issues and should be taken seriously.
Lastly, red-colored dashboard warning lights mean that something is wrong and you should stop driving as soon as possible.
Identifying the message of any light isn't always easy. So, familiarize yourself with common symbols like circles for brake issues, a thermometer for temperature, and more.
If you see a warning light, be sure to take safety measures and visit Hall Honda Virginia Beach for expert Honda service. Our trained technicians will identify the issue and work hard to restore your vehicle. Visit us today!